Save the Date!
80th TML Annual Conference
June 22-25, 2019
in
Memphis, TN
Registration Opens in April 2019
Sunday's Keynote Speaker: Lieutenant Colonel Robert Darling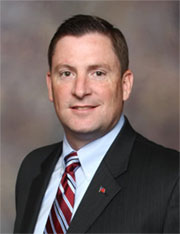 24 Hours Inside the President's Bunker, 9/11/01
On Sept. 11 2001, Lieutenant Colonel Robert Darling was working in the White House Military Office and was initially tasked to coordinate airlift assets for the President's evacuation to an undisclosed site. However, he was quickly recruited to provide his military expertise and became a key liaison between the Vice President Dick Chaney, National Security Advisor and the Pentagon and worked directly with the National Command Authority to respond to the terrorist attacks. Lieutenant Colonel Darling witnessed firsthand the enormity of the crisis leadership decisions that were made that day on behalf of all Americans.
His presentation is insightful, inspirational, patriotic and will instill in every person the important role each of us play in supporting our warfighters as they continue to defend America.
At the urging of family, friends, and colleagues to share his witness to American history, Lt. Col. Darling wrote his memoir, "24 Hours Inside the President's Bunker, 9/11/01: The White House". He continues to share his personal experience and knowledge of crisis leadership with many military, corporate, and university audiences nationwide.
As a public speaker, Darling has addressed numerous academic, government, military, and civic organizations to include the CIA, FBI, U.S. Marshals Service, Navy Space Warfare Center, U.S. Marine Corps, U.S. Air Force, Washington DC Chapter of the Program Management Institute, Harvard University's John F. Kennedy School of Government, Iona College, Defense Language School, and the Military Officers' Association of America. He has also guest lectured on the subject of Crisis Leadership and Counterterrorism at the FBI National Academy in Quantico, VA.
Lieutenant Colonel Darling retired from the United States Marine Corps with more than 20 years of active duty service in October 2007. He flew Cobra attack helicopters in Desert Shield and Desert Storm during the first Gulf War and in Somalia, Africa in support of Operation Restore Hope. In June 1998, he was selected to fly as a presidential pilot with Marine Helicopter Squadron One and in October 2000, he was selected to work for The White House Military Office, Airlift Operations Department. It was in that capacity that, then Major Darling supported the President, Vice President and National Security Advisor in the Presidential Emergency Operations Center (PEOC) on September 11, 2001.
He currently serves as the president of Quantitative Analytics, LLC, an aviation operations and logistics consulting company located in Stafford, VA., and is president of Turning Point Crisis Management -USA.